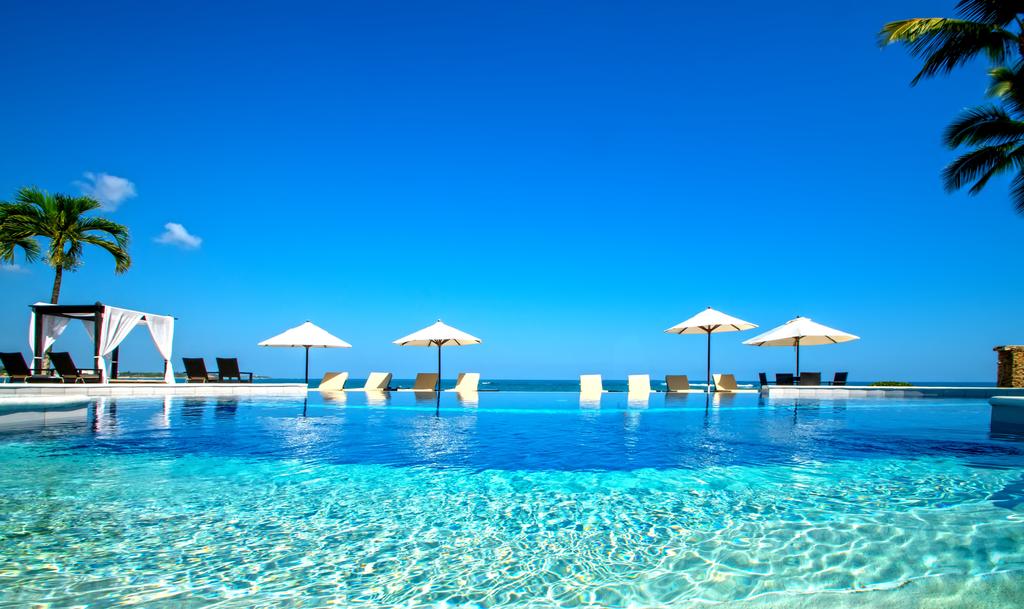 The up-and-coming Coral Resorts are growing in momentum. So what does it have to offer and why would you want to stay there?
Coral Sol de Plata All-Inclusive Resort in Cabarete, Dominican Republic:
1- Location: The Coral Sol de Plata Resort is located on the beautiful "El Canal" beach, between the north coast towns of Sosua and Cabarete, a popular beach town just about 20 minutes east of the Puerto Plata International airport.
2- Amenities: The Coral Sol de Plata has an incredibly large and extensive pool area (the largest pool landscape on the entire north coast of the Dominican Republic) with swim-up bar, lazy river, 2 water slides, and an area for water volleyball and water basketball. The Lighthouse Spa provides all the services a guest would expect for feeling pampered and to be able to relax. The guest rooms are equipped with A/C, hair dryer, coffee maker, iron/ironing board, safety deposit box cable tv and mini fridge.
3- Rooms: There are 320 guest rooms and suites divided among multiple buildings in an area spanning over 62 acres. There are 209 garden view rooms, 75 pool view rooms and 36 ocean view rooms. There are also 8 2-bedroom suites available upon request.
4- Restaurants: The Coral Sol de Plata All-Inclusive Resort has a choice of 4 restaurants and a snack bar. The Soles Buffet is open for breakfast, lunch and dinner with a wide variety of choices for any appetite. The Caribbean Grill provides Caribbean and Dominican food. Rigoletto is a wonderful and Intimate, Italian Restaurant open for dinner only between the hours of 6:30pm and 10:30pm. Kyoto is a Japanese restaurant requiring a reservation, but located in a beautiful spot where the chefs cook the food out on open grills for the guests to watch and enjoy. And last but not least, Mangos is a snack bar open 24/7. There are also 5 bars spread out throughout the resort.
5- Activities: The Coral Sol de Plata also provides a variety of activities and classes for the entertainment of their guests, such as: dance, aerobics, basketball, soccer and water sports. The resort really encourages guest participation and are great at helping everyone to have a fun time!
6- Night Shows: Every evening, the staff put on an excellent show from comedy and drama, to dance and karaoke; you are sure to have a great time!
7- Staff: One of the most impressive aspects of the Coral Sol de Plata resort, is the amazingly warm, friendly and helpful staff. They go above and beyond to accommodate their guests and make them feel taken care of and at home. The Dominican people are very friendly and engaging so take the time to get to know them because it will only add to the memories of your Dominican Republic vacation.
Planning a Trip to the Dominican Republic to Stay in the Coral Sol de Plata:
So if you are planning a trip and searching for the best resorts and all-inclusive resorts in the Dominican Republic, you may want to take a closer look at the Coral Sol de Plata. The Coral resorts have proven themselves to be a wonderful choice for anyone looking to get away and relax in the beautiful Caribbean country of the Dominican Republic.
And if you'd love to take a holiday in the Dominican but don't yet have the financial means to make that a reality, consider looking online for legitimate options and strategies that will provide you with a more flexible schedule and residual income so that you can travel more often and enjoy more relaxing holidays in beautiful locations such as the Coral Sol de Plata.
Next, continue learning more about how to develop a lucrative Online Career that will allow you to travel and spend more vacation time at the beautiful Coral Resorts of the Caribbean such as the Coral Sol de Plata in Cabarete, Dominican Republic.